---
---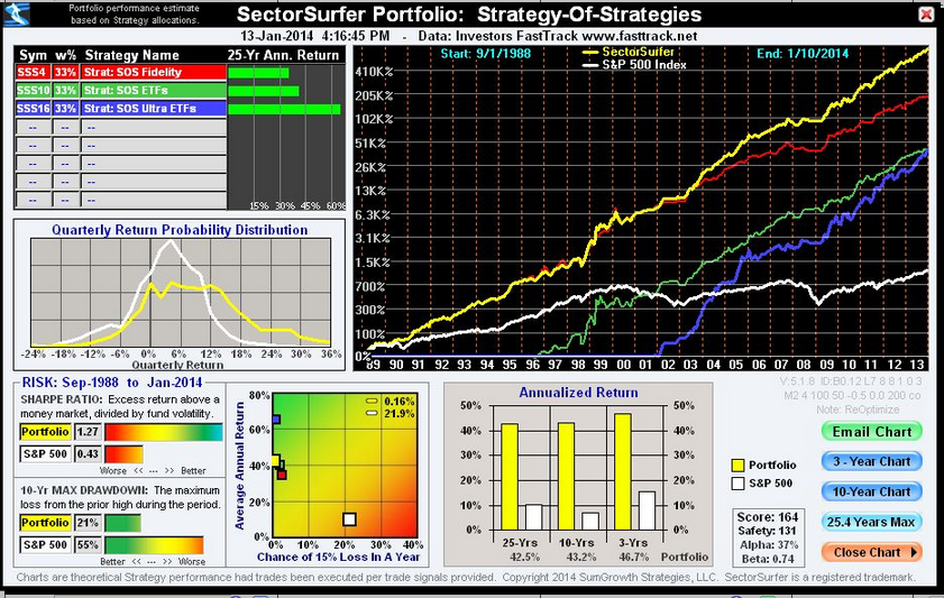 ---
| | |
| --- | --- |
| Learn "How To Profit Using Mutual Funds, ETFs and Individual Stocks" -- AVAILABLE NOW BY CLICKING THE BLACK BUTTON | |
---
Want FREE Details To This Highly Profitable "Strategy of Strategies Portfolio?"
InvestorsHELP.net is pleased to announce the release of a new strategy developed by Scott Juds, creator of SectorSurfer and founder & CEO of

SumGrowth.com

. Annualized returns over 25 years, 10 years and 3 years have consistently been over 40% when optimized by SectorSurfer. The Sharpe Ratio of 1.27 for this strategy is almost 3x better than the S&P 500. The 10 year max loss drawdown has only been 21% in comparison to 55% for the S&P 500. The SectorSurfer Score is 164 and Safety is 131, both excellent when compared to other strategies.

Notice -- Free access to this Strategy of Strategies Portfolio is no longer available. However, we do have all of the DETAILS regarding this very special portfolio for you for FREE. Using the specific information that we will make available to you, you will be able to create a duplicate of the Strategy of Strategies Portfolio for your own use and reap the profits it offers.

To get your FREE details now, please complete this request form. >>>>

NOTICE: If at any time you forget the current password, just complete the above "sign-up" form, and we will be happy to resend the password page to you.
---
---
---