Our videos are delivered cheaper, faster, and more convenient
than driving or flying to Silicon Valley.

---
SectorSurfer July 2014 Users Group Meeting Videos and Slides (See Below)



FIVE VIDEOS NOW AVAILABLE
FROM THE JULY 2014
SECTORSURFER USERS GROUP MEETING (SEE DETAILS BELOW)


Guest Speaker -- Gary Noreen (Introduction Only)

---
---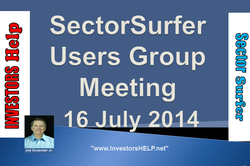 Looking for annual returns that easily beat the S&P 500? Do you want to see and learn how to use the SectorSurfer software in a more effective manner? This is your special opportunity to see how this is done by the Leader, Gary Noreen, of the AAII SumGrowth Special Interest Group (SIG) in Los Angeles.

Gary shares his actual experiences before and after using SectorSurfer in his presentation entitled: "My SectorSurfer Journey." Why he became interested in "tactical rotation" is also shared. Want a few educational SectorSurfer strategies? Are you curious to see the gains that Gary has achieved since beginning the use of SectorSurfer? Want access to Gary's current SectorSurfer portfolio and actual strategies that can be used by you to follow Gary's success in the markets?

All of the above, and more, as described in each video, are available for you. Gary's presentation has been divided into 4 individual videos of about 20 minutes each for your viewing. There are many "gems" of knowledge contained in Gary's presentation. SectorSurfer Joe encourages you to review each video several times, make notes, study Gary's strategies at SectorSurfer.com [SumGrowth.com], and then create and implement your own strategies. Perhaps you too will soon have your strategies selected for the SectorSurfer Hall of Fame!
---
---
Instructions to access these videos and presentation slides are stated below.

---
Gary Noreen (Part 1 of 4)
This video includes the following for your information:
1. Background, his time as a "double-agent," nickname "YODA"
2. Aggressive and successful investment styles,
3. Ideas for retirement,
4. Myths that we should avoid,
5. Instructive Strategies,
6. How to refine a retirement plan,
7. The "Fat" myth is revisited, now he controls his type II diabetes, and saturated fat and heart disease,
8. Mobile Satellite Telecom Myth,
9. Static Allocation Myth – don't need to rebalance every quarter, instead…
10. YODA's IRA, before using SectorSurfer.


---
Gary Noreen (Part 2 of 4)
Learn in this video about the following:
1. YODA's IRA, before using SectorSurfer (continued),
2. Using SectorSurfer, total return increases to 250% return versus 29% S&P 500,
3. Riding the Tsunami,
4. YODA's performance since 2011,
5. Faber 5, funds that reflect Ivy League investment classes, with StormGuard,
6. Faber 4, without IEF, improves performance,
7. Inverse funds, SPY Long-Short
8. StormGuard Off/On, Standard & Asymmetric Quick Response (AQR),
9. Combining Faber 4 with AQR, and "Forward- Walk-Tuning,"
10. Strategy Comparison.


---
Gary Noreen (Part 3 of 4)
A most informative video includes the following:
1. Genesis of "Top Dog Strategies,"
2. How to become a "SectorSurfer Brainiac,"
3. Fly through the eyes of Gary's drone,
4. Comparing Top 10 "Top Dogs,"
5. Top picks from the Top 10 "Top Dogs,"
6. Percent increases of 76% and 40% are revealed,
7. Model Portfolios from Hall of Fame,
8. How we can improve the "Own the Bubble" portfolio,
9. Model Portfolio Performance including: SectorSurfer Score, Safety, and 3-Year Return,
10. How to go from $10K to $1M in 10 years,
11. YODA Strategies,
12. Celeste Portfolio, higher risk with excellent returns in a high performance portfolio,
13. How to optimize a limited amount of funds in your company retirement plan,
14. Review of "SectorSurfer Guidelines for Fund Selection."


---
Gary Noreen (Part 4 of 4)
An interesting video which includes the following:
1. The Beaver 7, and how to optimize and rebalance,
2. Using Equity Funds with "Proxies,"
3. Revisit and discuss the "Strategy & Portfolio Comparison,"
4. Where to access the "Current Celeste Portfolio,"
5. Zillow Madness – Calculate your net worth,
6. Master of Sex – Reluctant Thespian,
7. More Information including YODA's Toolbox, portfolio tracking and analysis,
8. Fat is Good, Carbs Bad,
9. Concluding questions and answers.
[Important Notice: The Computerized Technical Analysis Group (CTAG) meeting was NOT recorded and is not available for viewing.]


---
Hi Fellow SectorSurfer Users, thank's for visiting and enjoying many videos from our SectorSurfer User Group Meetings. I hope to continue making videos in the future. During the past 20 months, I have accumulated several hundreds of dollars in expenses making these videos, building this website, paying room fees, providing free dinners to our speakers, etc. To cover some of these expenses, we will charge a flat fee of $9.95 (Rent for 90 days) or $49.95 (To Purchase) and have access to ALL of the 5 videos listed below PLUS 60+ presentation slides. To get access to this very informative presentation, please click on the link shown on the right. You may purchase the videos and slides or rent access for 90 days. Thank you for your support and I look forward to seeing many of you at our next SectorSurfer Users Group meeting in September, 2014.

Learn, profit and enjoy.
SectorSurfer Joe






---
---
SectorSurfer Users Meeting -- July 16, 2014
Our 10th SectorSurfer Users Group meeting was held on

Wednesday, July 16, 2014 at 6:00 PM at Holder's Country Inn, 998 S. De Anza Blvd., San Jose, CA (Across from Home Depot). Restaurant Tel: (408) 244 - 2798.

NOTICE: Dinner selections begin at 6:00 PM;
Joe Gruender will begin this event at 6:30 PM.

EVERYONE IS WELCOME TO ATTEND

---
---
Meet Gary:
Gary Noreen (a.k.a.YODA) retired 3 years ago from Cal Tech's Jet Propulsion Laboratory, where he worked on numerous interplanetary missions as a Systems Architect and Telecommunications Engineer. Gary runs an investment club at JPL and the Los Angeles AAII SectorSurfer SIG. He is a true "rocket scientist'' who understands the value of our signal processing and matched filter theory methods. His presentation focuses on his experience using SectorSurfer over the past year, and will include some high performance strategies and portfolios.


We will all benefit from hearing Gary's presentation entitled:
"My SectorSurfer Journey"
1. Gary will review his investing experiences before Sectorsurfer,
2. He will reveal why he became interested in tactical rotation,
3. Gary will share a few educational SectorSurfer strategies, and
4. He will review his actual performance since beginning to use SectorSurfer.
5. If we're lucky, Gary will outline his current SectorSurfer portfolio for us.


---
Videos of this meeting and Gary's excellent presentation
with 60+ presentation slides are now available here: Get Videos and Slides

---
---
Here's a good service I use while waiting for monthly signals from SectorSurfer:
---