---
Want To See What's Available?


Please click on the PDF files to download a description of subjects contained in each video. There are 4 videos available for you from Scott Juds as follows:


There are 3 videos available from Don Kinell as follows:




---
Thank you SectorSurfer users for your topics, suggestions and comments. Thanks to you, we had a great meeting!

---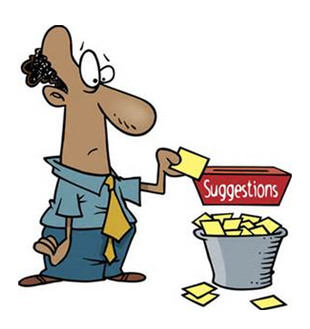 WHAT'S IMPORTANT TO YOU???

WE NEED YOUR SUGGESTIONS FOR OUR JAN. 2015 MEETING!

Our plans are now set for our 1st SectorSurfer Users Group Meeting in 2015. Details are shown below, however, this meeting is for YOU!
So, we need your suggestions for topics that you would like reviewed and discussed at this meeting.

This meeting will focus on topics submitted by SectorSurfer users and attendees BEFORE THE MEETING. This is your first opportunity in 2015 to make your needs known to the team at SumGrowth.com.

Maybe you are looking for a review of basic concepts, or information that has recently been added for SectorSurfer users? Perhaps you would like some additional details on the more complex subjects found in SectorSurfer? Do you have unanswered questions that you would like discussed?

Whatever the suggestion, question or comment, we need to hear from you NOW so that we can prepare for this meeting.

So, put on your "thinking cap" and send suggestions, questions and comments to: SectorSurferJoe@gmail.com.

---
---
NEW LOCATION AND NEW DAY FOR JANUARY MEETING
SectorSurfer Users Group Meeting -- Jan. 15, 2015 (Thursday)

Chief SectorSurfer -- Scott Juds
Chief Technical Officer -- Jim Gamache
Will Be Here In Silicon Valley!


Our 14th SectorSurfer Users Group meeting will be held on

January 15, 2015 at Harry's Hofbrau, 390 Saratoga Ave., San Jose, CA 95129.
Restaurant Tel: (408) 243 - 0434.
[http://www.harryshofbrau.com/pages/locations.html]


TIME: Dinner selections begin at 6:00 PM, but it is NOT required that you eat.
SectorSurfer Joe Gruender will begin this event at 6:30 PM.

EVERYONE IS WELCOME TO ATTEND AND HEAR THE LATEST HAPPENINGS
FROM SECTORSURFER By SCOTT JUDS.

---
---
| | |
| --- | --- |
| While you are waiting for our January meeting, you may want to get up to speed by accessing and reviewing this set of videos from the Nov. 2014 Users Group Meeting? | . |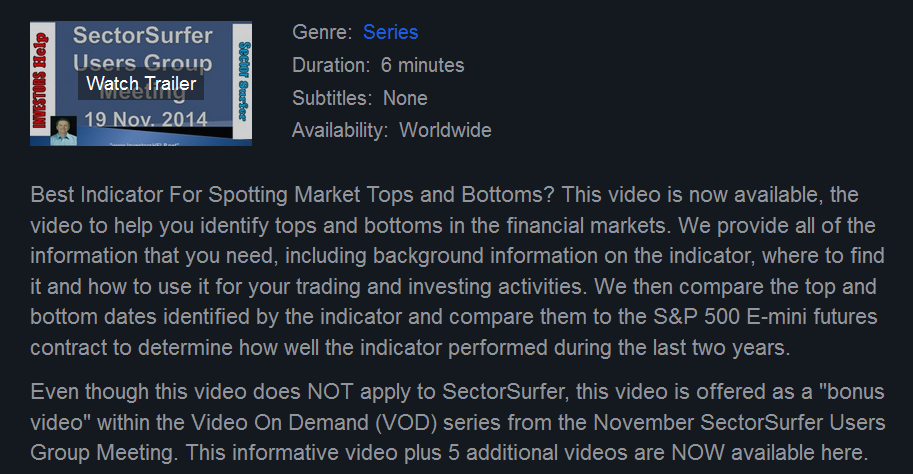 ---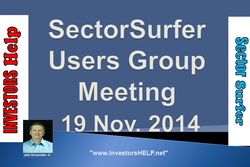 The 13th SectorSurfer Users Group Meeting was held on 19 Nov 2014 in Silicon Valley, CA.
[CLICK HERE FOR DETAILS]
A variety of interesting and informative subjects were covered including the following:
1. Want To Reap The Benefits From Using 9 New Master Strategy-of-Strategies (MSOS)?
Everything you need to know about MSOS is now covered in this "robust" two part video series to get you started. Review these videos and then select the best MSOS for achieving your investment goals.
2. Do You Want Decent Returns With New Low Drawdown Strategies From SectorSurfer?
If so, the answers are here in another "robust" two part video series. SectorSurfer Joe will share opportunities with you to earn annualized returns of 15 to 17% with only a 2.9% quarterly realized 10 year max drawdown.
3. Spotting Market Tops & Bottoms (More Frequent Alerts Than StormGuard!) Is this indicator right for you?
Want to access the details of Joe's review and analysis on a unique indicator for trying to spot market tops and bottoms. See what Joe has to say about this indicator highly recommended by a fellow investor.
4. Setting Stop-Losses. An informative article provided by Ivan of San Francisco. Do you calculate your stop-losses so you never risk more than 2% to 5%? Do you set your stops based on "support" or "resistance?" How about using a multiple of "average true range" for setting stops? After a lot of research and back testing, the results may surprise you. The results are here! We hope that you have a safe and Happy Thanksgiving weekend.
We hope that you learn, profit and enjoy from using the several videos available to you in this VOD production.
SectorSurfer Joe
---
---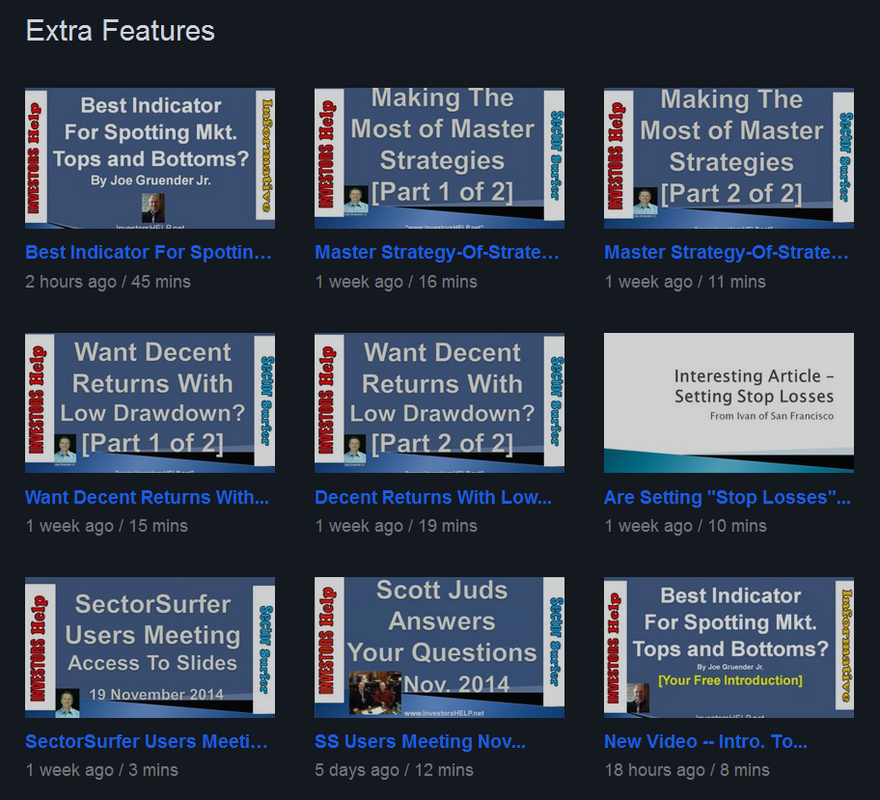 ---
Wonderful News! My wife, Luz, and I enjoyed a delicious dinner with Scott and Erin in their cozy home overlooking beautiful Lake Washington in the Seattle area in October. While there, we were invited into the SumGrowth/SectorSurfer headquarters where Scott shared some of the latest news regarding SectorSurfer and his new strategies.

I will be sharing these new strategies and details with you at our November meeting. Apparently, some SectorSurfer users in the Dallas area have requested some new strategies from Scott that will provide decent returns with "low drawdown." Since many of the Texans are retired, they do not want to be exposed to any significant risk with their retirement money. So they asked for Scotts assistance to make it happen, and once again Scott worked his magic and came through with flying colors.

If you attend this meeting, you will get ALL of the details when I present "Want Decent Returns With Low Drawdown?" I also plan on presenting "Making The Most Of Master Strategies." If time permits, I will share a 3rd presentation on an indicator that I use to help me determine if we are at a high or low in the stock market. This can be used in conjunction with StormGuard, however it does move you in and out of the markets to safety more frequently.

If you are unable to attend, I plan to have videos from this meeting available for your use. Hope to see many of you on Wednesday.

Keep Surfing Safely and Profitably With SectorSurfer,
SectorSurfer Joe

---


Did You Miss Our Sept. Meeting?
9 Videos From our September 2014
SectorSurfer Users Group Meeting
remain available for your access, education and your enjoyment. Please click below now.

---
---
---
Videos of this meeting and future meetings will only be available
to subscribers of InvestorsHELP.net. To subscribe for FREE, see below:
---
Procedures for Accessing SectorSurfer Videos:


1. If you are a current subscriber to InvestorsHELP.net AND have already used the website password, please click the below black button:


2. If you are a current subscriber to InvestorsHELP.net AND cannot remember the website password, OR


3. If you are NOT a current subscriber to InvestorsHELP.net AND want FREE membership to get FREE access to our videos, please complete the blue form to become a FREE subscriber. >>>

---