Please click to help "Our Special Kids"




www.InvestorsHELP.net
Supports
"Our Special Kids"
In
Cavite City, Philippines



Please click to help "Our Special Kids"

---
Want to buy something from Amazon?
When you click on the ads shown above, you will be taken directly to Amazon.com.
Whenever you make a purchase, we will get a small commission (won't cost you)
which will go a long way to help Our Special Kids in the Philippines.
(Thank you, Joe and Luz.)
---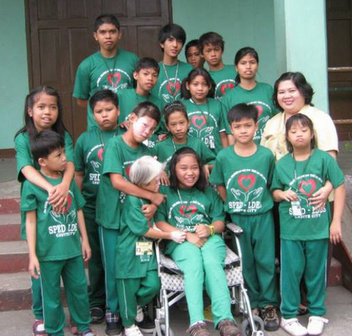 Ladislao Diwa Elementary School SPED Center believes in the following goals and objectives:

1. The mainstreaming and/or inclusion of learners with special needs into the regular school system and eventually into society.

2. We shall develop the full potential of the children with special needs in order that they become self-reliant in preparation to become efficient citizens enjoying various opportunities suited to their capabilities.

3. The Center shall promote a holistic kind of education which encourages and challenges children with special needs (CWSN) in areas of competence and which nurtures and produces learners who are respectful, cheerful, and God-loving members of our society.
---
---
---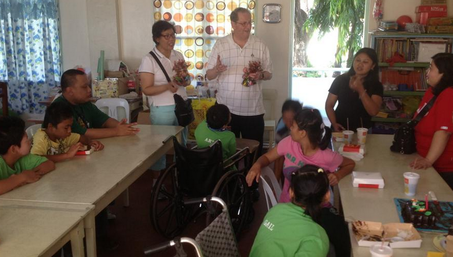 In March 2013, my wife, Luz, and I had the pleasure of returning to the Ladislao Diwa Elementary School in Cavite City, Philippines to meet many of the students and teachers in the Special Education Program.

We enjoyed meeting with Mrs. Carmelita Munoz and her associate and learned how the Special Education Program is fulfilling the needs of these very special children. We shared some of our thoughts and words of encouragement; then we provided lunch and small gifts to these children for their extraordinary efforts in overcoming daily challenges.

It was heartbreaking to learn that several of these children come to school without having eaten any breakfast or only a small cup of rice. We hope and pray that our continuing efforts and assistance from family and friends are going a long way to help our special kids in Cavite City.

Our next visit is planned for February, 2017. This trip will be with a missionary team from our church in San Jose, CA.

Funds provided, when you click on ads of interest to you, will benefit Our Special Kids. (Thank you, Joe and Luz.)

---
---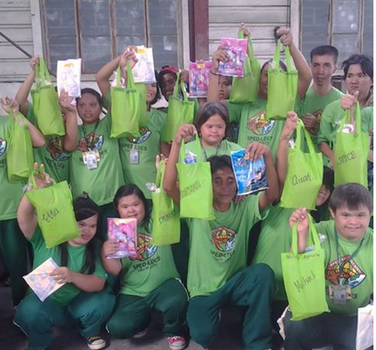 Several months before out trip to the Philippines, Luz and I start to gather small gifts for our special kids in the Philippines. We hunt for bargains here in California during summer sales and "back-to-school" specials at Target, Office Max, Staples and other stores where we can stock up on pens, pencils, tablets, crayons, and other school supplies. We often get free samples of tooth brushes and tooth paste from our favorite dentists since these items are considered a luxury by many of the poorer families throughout the Philippines.

It is hard to believe that many items that we take for granted here in the US are either not available or "too expensive" for families to purchase in Cavite City. We also stock up on some candy (hence the need for tooth paste) after Halloween at 50 to 75% off the regular price at Rite-Aid and Walgreens. Small bags, similar to the ones shown, are provided to each child as their "goody bag" to take home and share with their families. We ship most of these supplies and gifts in large boxes from our home in San Jose so that they arrive about a month or two before we arrive there in Cavite City.

We have a wonderful family activity assembling each bag for children in the Special Education Program and for other neighborhood children in need. This is a truly rewarding experience for Luz and me and for all members of the Bautista family as we work together to help others.
---
---
---