---
Informative and Free Videos For All Investors Are Listed Below
Joe's "Informative Videos" are educational videos that contain information that is informative for all investors but do not apply directly to Investors Business Daily (IBD) nor SectorSurfer. However, they are very useful, interesting and helpful to investors who want to learn, grow and profit in the financial markets in addition to IBD and SectorSurfer. A wide range of subjects are covered in these videos. Check back often to see what videos are newly added for your education as an investor.

---
If you would like to receive advance notifications when new videos are published, please click on the below tab.
---
Investors Helping Investors
Want to learn from other experienced investors? Some of our more knowledgeable investors here in Northern CA have willing agreed to share some of their wisdom and knowledge with the subscribers and viewers here at InvestorsHELP.net. You can access the videos of their presentations by clicking on the applicable buttons shown below. I am sure that you won't be disappointed. Joe
---
Click Here >>>
For Videos



Click Here >>>
For Videos



Click Here >>>
For Videos



Click Here >>>
For Videos



Click Here >>>
For Al Zmyslowski



Sign Up For Free Notifications When New Videos Are Published by InvestorsHELP.net:

Get

More

Videos

Here
---
MORE INTERESTING VIDEOS FOR ALL INVESTORS
---
Title: Think You Have An Excellent Financial Advisor?
Speaker: Joe Gruender
Description: How good is your financial advisor? Why not check their education and experience before your advisor gets you into trouble? Now we have a free resource to check them out in a matter of a few minutes.
---
Title: How Good Is Your Company's Retirement Plan?
Speaker: Joe Gruender
Description: Want to know how good is your company's retirement plan? Want to compare your plan to another? How many investment options are available within your company plan? All of this is available in this free video.
---
Title: Bigger Profits Using Shareholder Yield
Speaker: Al Zmyslowski
Description: Al, founder of the AAII Silicon Valley Computerized Investing-Mechanical Investing Group, shares with members of this group a wealth of information regarding automated and mechanized strategies for generating profits in the markets.
---
Title: Meetings in June 2013 For Investors
Speaker: Joe Gruender
Description: This is a monthly schedule of the various meetings for investors that take place in Northern CA. Due to a limited audience, these monthly videos are no longer being published.
---
Title: Technical Analysis Reaps Profits
Speaker: Joe Gruender
Description: Basic support and resistance lines using technical analysis can help you generate both trading and investing profits. This is a good video to give a perspective on how I made a successful short term investment starting out as a short term trader.
---
Title: Better Than Using Google Earth?
Speaker: Joe Gruender
Description: Is this new website better than Google Earth? Quickly locate areas of interest to you. Watch me demonstrate this very fast service by finding the Playboy Mansion for your viewing pleasure. Then you decide if this is better than Google Earth?
---
Title: Learn How To Be A Successful Investor While You Drive
Speaker: Joe Gruender
Description: Many investors enjoy listening and learning about the markets while driving. We have available an excellent business news radio station for our listening and learning pleasure. Where can you can find this station on your AM channel?
---
---
Benefits of Subscribing?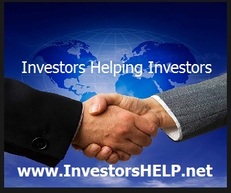 Simple, here are 5 benefits for you:
1. Access is this website is currently FREE,
2. You will have access to 100+ videos,
3. Get access to "restricted" videos that contain information that may be considered "sensitive" and not available to everyone,
4. Be among the first to be notified when new videos are published, and
5. Get a "head-start" ahead of other investors.


---